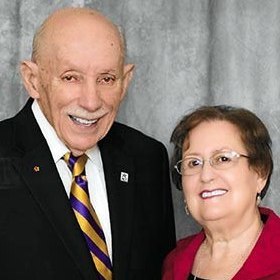 Gus and Marina Garcia
Gus Garcia and his wife, Marina, are longtime Austin civic leaders who continue to make a positive impact on the city.
The first in his family to attend college, Gus Garcia graduated from the University of Texas at Austin with a degree in accounting. After establishing his business as a certified public accountant, Marina enrolled at the University of Texas and completed a master's degree in education.
The couple has spent decades working to improve the lives of Austin's citizens.
Gus served as a charter member of the 1967 Human Relations Commission during the Civil Rights movement. In 1972, he became the first Hispanic elected to the Austin Independent School Board and helped galvanize voter support for the establishment of Austin Community College in a December 1972 referendum. Gus joined the Austin City Council in the 1990s and became the city's first Hispanic mayor in 2001.
Marina spent 20 years leading bilingual special education programs in Central Texas schools. "It's important that students have the opportunity to find success. Often times that begins early on," Marina says.
Among his many accomplishments, Gus Garcia has been honored with the 1992 LULAC Award for Political Involvement & Education and the Whitney M. Young, Jr. Service Award of the Boy Scouts of America Capital Area Council. He was named Hispanic of the Year by the Austin Independent School District in 1991 and Businessman of the Year by the Texas Association of Mexican American Chambers of Commerce in 1984. He's also been recognized with the Martin Luther King Association Humanitarian Award.
The Austin City Council named a park and recreation center in his honor, the Austin ISD named a middle school in his honor, and the Greater Austin Hispanic Chamber of Commerce selected Gus as its first Lifetime Achievement Award recipient.
Now retired, Gus and Marina Garcia continue their work with students through local community centers. They also enjoy spending time with their three children and five grandchildren.