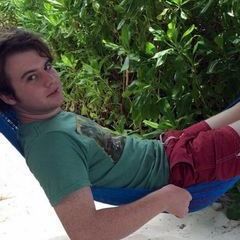 Amory McCann
Amory Jacob McCann was born on March 20, 1995 and died on January 8, 2017 at his home in Austin, Texas.
Amory's name means "brave power," and he embodied that completely. He was an inspirational force, with a passion for life and adventure.
Amory will be remembered for his amiable, generous disposition. He was extremely popular and a leader among his peers. Amory cared deeply for his friends and family, and he was always willing to lend a hand, to listen and console, and to share a laugh or joke. His sense of humor made clear his intelligence; it was dry, insightful and hilarious. His laugh and positive energy illuminated any environment.
Amory will be remembered as an exceptional athlete. Nimble, quick, and strong, Amory was always moving. His excellent balance and coordination enabled him to master difficult physical feats, whether on a skateboard, unicycle, or even a flying trapeze. He wanted to go higher, faster. He wanted more, now.
Amory will be remembered for his kindness and compassion for all living beings, especially fish. He was a promising ichthyologist, with extensive knowledge of fish and the setup of large, complex aquariums. He established an aquaponics program at Garza High School and had a large system of his own at home in a converted swimming pool. His natural curiosity led to innovative problem solving and brilliant solutions.
Amory will be remembered for his independence. His inquisitive nature ensured that a slew of projects and experiments were always underway, and each one had his own personal stamp on it. Amory was proud of his ability to overcome challenges and he loved to learn, ever increasing his understanding of his passions and the world.